Platelets are produced by bone marrow megakaryocytes (MKs), which extend long cytoplasmic pro-trusions, designated proplatelets, into sinusoidal blood vessels where these proplatelets undergo fission to release platelets. Patients with defects in platelet production have a low platelet count (thrombocytopenia), which can lead to an increased bleeding risk. There is still a remarkable gap of understanding the underlying molecular mechanisms of platelet production and a more detailed un-derstanding of this biological process is warranted to better treat patients suffering from bleedings due to low platelet counts. Optogenetics is a method that uses light to modulate cellular activity or animal behaviour by gene transfer of photo-sensitive proteins. Recent developments in the field tend to address a broader scope of cellular and molecular biology besides neurobiology. In this proposal, we intend to establish optogenetics in the field of platelet research in order to precisely control and manipulate platelet production using light and thereby identify key players and mechanisms involved in this complex process.
Thrombozyten werden von Knochenmark-Megakaryozyten (MKs) produziert. Hierbei bilden die MKs lange zytoplasmatische Ausläufer, sogenannte Proplättchen, in das Blutgefäß aus, von denen sich die Thrombozyten abschnüren. Patienten mit einem Defekt in der Thrombozytenproduktion weisen eine erniedrigte Anzahl von Thrombozyten auf (Thrombozytopenie) und haben ein erhöhtes Blutungsrisiko. Trotz neuer Erkenntnisse sind zahlreiche Prozesse der Megakaryo- und Thrombozytopoese nur unzureichend verstanden und viele Fragen weiterhin offen. Ein detailliertes Verständnis dieses biologischen Prozesses ist eine wichtige Grundlage für die Entwicklung neuer Strategien zur effektiven Behandlung von Patienten mit Thrombozytenbildungsdefekten. Optogenetik ist eine Methode, bei der man durch die Expression von photo-sensitiven Proteinen mit Licht zelluläre Prozesse oder das Verhalten von Tieren modulieren kann. Mittlerweile wird die Optogenetik auch in zahlreichen anderen biologischen Forschungsfeldern, neben der Neurobiologie, angewendet. In diesem Projekt möchten wir die Optogenetik in Megakaryozyten etablieren, um die Thrombozytenproduktion mit Licht regulieren und manipulieren zu können, und um wichtige Schlüsselproteine in diesem Prozess zu identifizieren.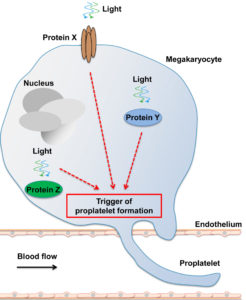 Figure legend:
"Optogenetic toolbox" that should be expressed in MKs to manipulate MK maturation and proplatelet production.
Abbildung:
"Optogenetische Toolbox", die in MKs exprimiert werden soll, um die Produktion von Thrombozyten kontrollieren und manipulieren zu können